As local businesses continue to re-open, we want to do our part to support the Port Moody community that we are so proud to be a part of. What better way to welcome these businesses back than have 50 Electronic Avenue homeowners pay them a visit?
Through our I ❤ Port Moody program, those who purchase a new home at 50 Electronic Avenue this summer will receive​​​​​​​ $1,000 in gift cards to 10 Port Moody businesses! We'd love for you to celebrate the purchase of your new home by getting acquainted with your new neighbourhood or exploring the community you're already living in.

For those not quite ready to purchase a home, you still have the chance to win one prize of $1,000 in gift cards, plus one of the four weekly $25 gift cards that will be drawn over the course of the summer by either visiting our Presentation Centre or engaging with us on social media. Follow us on Instagram or Facebook for more details!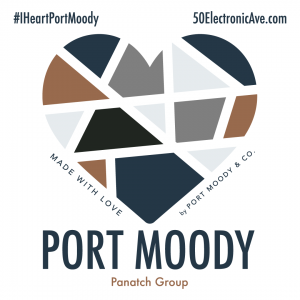 We are proud to have collaborated with Port Moody & Co on the design of the icon for our I ❤ Port Moody program. You can pick up a pin featuring this lovely design at our Presentation Centre or one of the 10 participating local businesses!
*No purchase required in order to be entered to win weekly prizes or $1,000 Grand Prize in gift cards. This is a limited time offer and is subject to change or be withdrawn without prior notice. This is not an offering for sale. Please see Disclosure Statement for specific offering details.